Description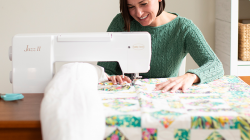 12" Workspace
Making a larger quilt or working on a bulky project? No problem. The
Jazz II has an expanded throat space that gives you plenty of room to
work comfortably.
1,000 SPM
With 28 built-in stitches, including a one-step buttonhole and a maximum
stitch width of 7 mm, Jazz is well-equipped to take your creativity to
new heights. Keep a quick and steady tempo of up to 1,000 stitches per
minute.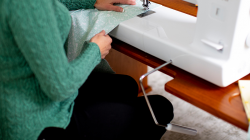 Hands-Free Presser Foot
Keep both hands free for sewing large quilts. Start and stop your sewing
without ever taking your eyes—or hands—off your project.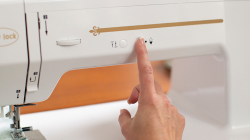 Programmable Needle Up/Down Button
You can choose to have your needle start in
the up or down position, eliminating interruptions and making it easier
to complete your projects faster. It's the perfect option for chain
piecing and appliqué!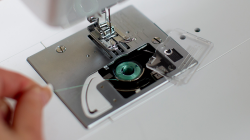 Quick-Set, Top-Loading Bobbin
No more struggling with bobbin changes midway through a project. Simply
drop in a new bobbin, pull your thread through the guide and Jazz does
the rest.
Built-In Needle Threader
With just a few simple motions, your needle is threaded and ready to
use. There's no guesswork, no near-misses and no frustration!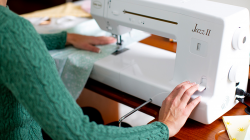 Large Reverse Lever
We've increased the size of a standard
reverse lever, making it easier to get your hand on it without taking
your focus off your work.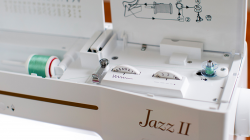 Automatic Bobbin Winder
The built-in bobbin winder seat holds your thread in place and then
stops automatically when the bobbin is full. It couldn't be easier.